Is a 613 wig a good choice?
613 blonde color hair is so popular and loved by African Americans. It can be colored into different colors. Roya Hair Company private the best quality 613 hair wig, 613 lace closure wig,  and blonde human hair lace frontal wigs.
Is a 613 wig a good choice?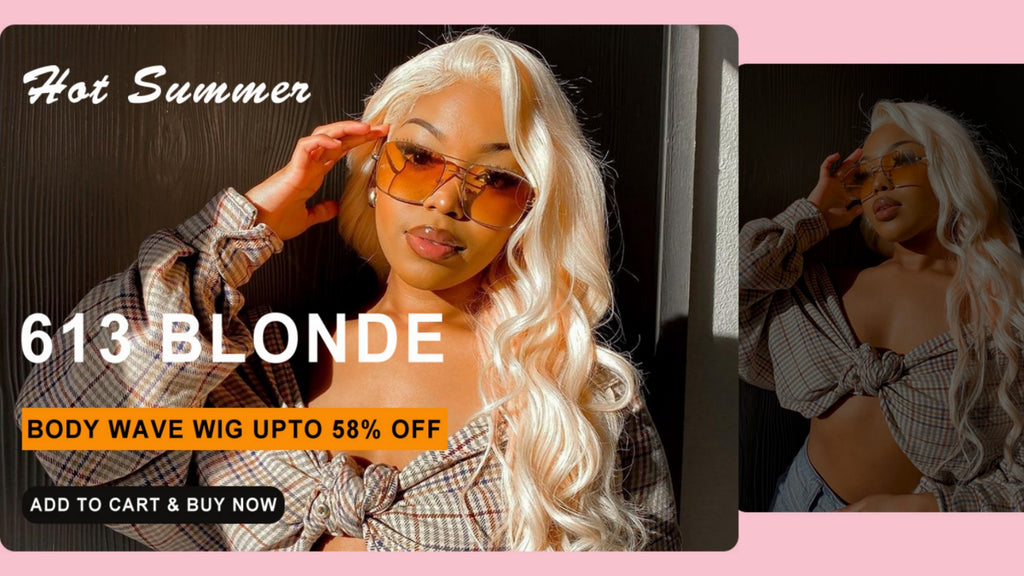 Wigs have become more and more popular and have become a necessity in our daily lives. With the development of the times, more and more people tend to choose colored wigs. 613 wig is one of the color wigs that people seek. This article will tell you all about 613 blonde wig. There will be related videos, wig structure diagram, style model diagram in the article, so that you can have a better understanding. After reading it you will understand if it is a good choice.

613 wig is also called 613 lace front wig, whose name comes from the color of the wig. 613 blonde wig is a kind of front lace wig, which uses 100% human hair and Swiss lace. Hair is very soft, healthy and thick and can be dyed and ironed to your liking.


The lace part is handmade by crocheting the hair on the lace net, which is more realistic and natural after drifting. The extra lace on the forehead can create a perfect hairline. Look at the enlarged detail.

Is a 613 wig a good choice?
The advantage of Ballice 613 hair is the high quality. With proper care our 613 wigs and weaves can last up to a year if not longer. Our biggest complement is the soft lushness of our human hair.   613 blonde hair will leave you feeling like it is your own. Our units give you the versatility to style them whichever way you like. We also provide you with the best quality lace front units that are made up of high-end translucent lace that will blend perfectly onto your scalp and hairline. 
Our wigs also come with an adjustable cap size which leaves every customer feeling comfortable once wig is applied to their head. If you continue to follow our tips on how to take care of your 613 blonde hair, you can ensure that you will have it for months to come. 
To purchase your 613 blonde hair, check out the selection that Ballice has to offer.
Many possibilities
There are many possibilities for blonde wigs. The biggest advantage of 613 blonde hair is that it does not need to be bleached. Therefore, when many women want to wear light-colored hair, they prefer this color of hair. The hair has been bleached, so all you need to do is choose the color you want. This greatly reduces the time and effort required to dye hair.
Variety of hairstyles
613 human hair wig has a large lace front limit, which means you can split your hair in the front without worrying about the edges of the wig sticking out. So the style becomes very interesting. Simple and time-saving All of Klaiyi Hair 613 lace front wigs are pre-plucked and can be re-styled directly according to the natural hairline. This can save you a lot of money and time.
Natural beauty
African-American black women worry that blonde hair looks unnatural. This problem is because you have to find a color that is naturally accepted. Dark roots will be your best friend. 613 blonde Wig with dark roots is the perfect image! It can give you a natural and noble visual effect.


613 blonde wigs are just like most wigs that are used to cover your hair and give you the appearance of long, soft, natural looking tresses. Typically, 613 blonde wigs are made up of a very high-quality human hair that is bleached and dyed to achieve the platinum blonde color. What makes this wig so great is that no extra coloring is needed once you purchase the item. Depending on whether you want a full lace unit or just a frontal, you will have the option to part your 613 blonde wig any way you like. 

The 613 blonde wigs give your versatility not only with styling but also coloring. Some of these units even come with different shades of blonde mixed in to give you a variety of dimension and style. The 613 Blonde wig is very popular and second to the natural black color. Due to its versatility and ability to make everyone look good, more and more African American women are purchasing 613 blonde wigs. 

Sample Block Quote
Praesent vestibulum congue tellus at fringilla. Curabitur vitae semper sem, eu convallis est. Cras felis nunc commodo loremous convallis vitae interdum non nisl. Maecenas ac est sit amet augue pharetra convallis nec danos.
Sample Paragraph Text
Praesent vestibulum congue tellus at fringilla. Curabitur vitae semper sem, eu convallis est. Cras felis nunc commodo eu convallis vitae interdum non nisl. Maecenas ac est sit amet augue pharetra convallis nec danos dui.
Cras suscipit quam et turpis eleifend vitae malesuada magna congue. Damus id ullamcorper neque. Sed vitae mi a mi pretium aliquet ac sed elitos. Pellentesque nulla eros accumsan quis justo at tincidunt lobortis denimes loremous. Suspendisse vestibulum lectus in lectus volutpat, ut dapibus purus pulvinar. Vestibulum sit amet auctor ipsum.